Shopping
Golf Simulators – The Ultimate Guide to Becoming a Pro
Golf simulators have become increasingly popular in recent years, providing golf enthusiasts with a realistic and convenient way to practice and improve their game. With the ability to play on virtual courses, analyze swing data and receive feedback on shot accuracy, golf simulators have become the ultimate training tool for aspiring professionals and amateur golfers alike. In this guide, we will explore the world of golf simulators and provide tips on how to use them effectively to become a pro.
What is a golf simulator?
A golf simulator is a system that uses advanced technology to simulate the experience of playing golf indoors. This system typically includes a large screen, a projector or multiple monitors and sensors that track the golfer's swing and ball flight. The simulator software generates a virtual course which the golfer can play on using real golf clubs and balls. The system also provides data on swing metrics, shot accuracy and other useful information to help golfers improve their game.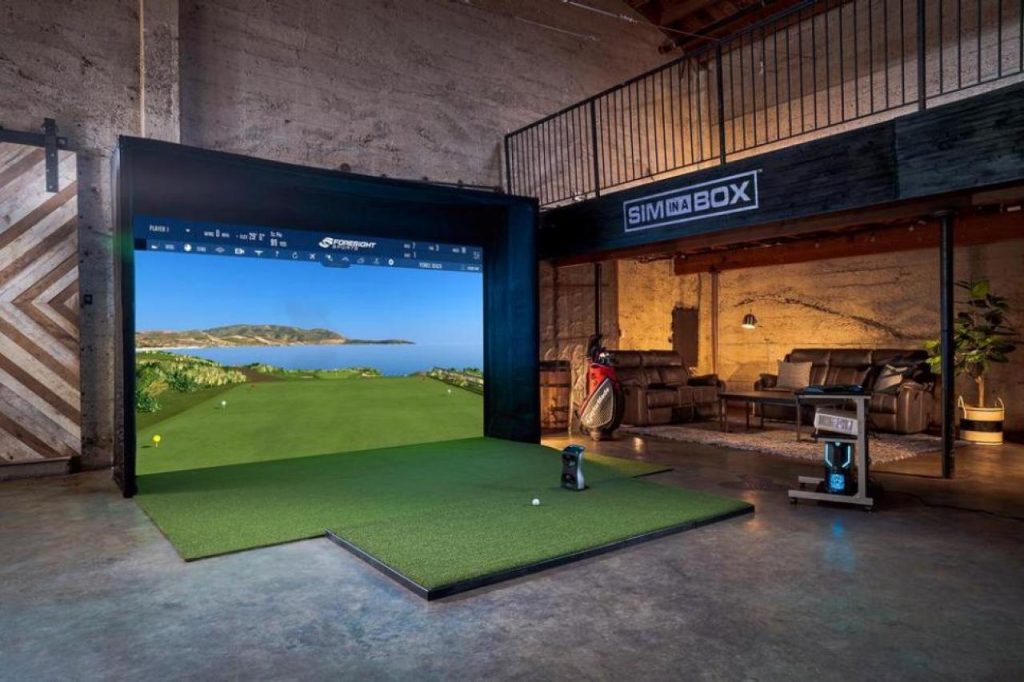 Why use a golf simulator?
Golf simulators provide several advantages over traditional outdoor practice. First, they allow golfers to play on a variety of virtual courses, including famous international courses that may not be accessible in person. This provides golfers with the opportunity to practice different types of shots and experience different playing conditions, such as wind and weather. Second, Golf Simulators provide instant feedback on swing mechanics and shot accuracy. By tracking swing metrics, such as clubhead speed and swing path, golfers can identify areas of their game that need improvement. They can also analyze ball flight data, such as launch angle and spin rate, to fine-tune their shot accuracy. Finally, golf simulators offer a convenient way to practice, regardless of the weather or time of day. This is especially important for golfers who live in colder climates or who have limited time to practice outdoors.
How to choose a golf simulator?
When choosing a golf simulator, there are several factors to consider, including:
Space – Golf simulators require a significant amount of space so it's essential to ensure that your home or facility has enough room for the system. Consider the size of the screen as well as the distance between the screen and the hitting area.
Budget – Golf simulators can range in price from a few thousand dollars to tens of thousands of dollars, depending on the features and technology. Consider your budget and the features you need to determine the best option.
Technology – Golf simulators use different types of technology to track swing and ball flight data. Some use infrared sensors, while others use high-speed cameras or radar. Consider the accuracy and reliability of the technology to ensure that you get the most accurate data.
Software – The simulator software is crucial for the overall experience. Look for software that includes a variety of virtual courses, accurate physics and detailed swing metrics.
Tips for using a golf simulator
Warm-up – Before starting your session, take some time to warm up your body and muscles. Stretching and doing some light exercises can help prevent injury and improve your swing.
Adjust your setup – Make sure that your setup in front of the simulator is identical to your setup on the course. This includes your posture, ball position and alignment.
Use proper equipment – Use the same clubs and balls that you would use on the course. This will help you get a more accurate representation of your game.
Analyze the data – Pay close attention to the swing metrics and ball flight data provided by the simulator. Use this information to identify areas of your game that need improvement and to adjust your swing accordingly.
Practice with a purpose – Have a specific goal in mind when practicing on the simulator. This could be improving your accuracy on a particular shot or working on your swing mechanics.